Services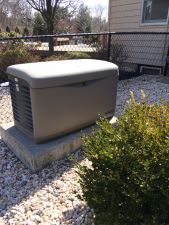 Turn-key installation:
No worries, No hassles! Bana Electric's one-stop shop provides complete installations for our customers which include the generator unit, electrical and plumbing work, required materials, permit submissions, inspections and start-up.
Remote monitoring:
KOHLER's optional OnCue system allows you to keep an eye on your generator remotely, often alerting you to an issue before it becomes a problem.
Warranty issues:
Our Factory Certified Technicians handle all your generator warranty issues.
Service contracts:
Don't wait until the power goes out! Bana Electric maintenance agreements ensure long-term, trouble-free operation of your generator.
"Thank you for getting the job done so quickly and for your flexibility. I have to tell you that the people you work with are among the nicest, most agreeable service folks I've met. Very impressed! So far, Bana is my new favorite company!" – Northport, Homeowner